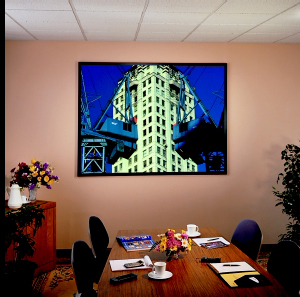 Permanently tensioned screen for perfect picture quality.
Improve your image—with a Clarion projection screen.How? The viewing surface is perfectly flat. And a perfectlyflat viewing surface means perfect picture quality. TheClarion's viewing surface is stretched tightly over a selfconcealingaluminum frame, which also forms an attractive border, for a clean, theatre-like appearance. With a choice of M1300, M2500, glass beaded, or AT1200 acoustically transparent viewing surfaces, Clarion offers the surface that's perfect for your projector.
You won't find a better image. You design the system: permanent wall mount or tilting; viewing surface; frame finish; format and size. Custom sizes available. Wallmounting brackets included.
Now you have the option of a conventional textile-backed viewing surface without tab tensioning but with all the benefits of the original Signature design. With the addition of the Signature/Series E, no other manufacturer gives you this wide range of fabrics to choose from, plus a patented ceiling closure that disappears into the case.
Choose a frame finish. Black aluminum is standard. The standard black frame may be covered with velvety black Vel–Tex, which virtually eliminates all reflections on the frame. Laminates are available in 4 standard finishes (see below) as well as custom finishes. Hardwoods are available in 5 standard finishes (see below). Hardwoods and laminates are permanently attached to the structural aluminum frame.
Optional Equipment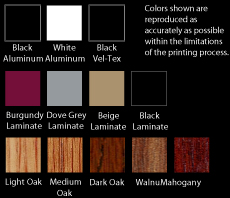 Click here to download the printable

PDF!